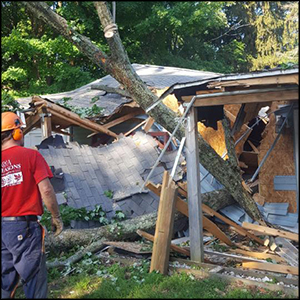 When a storm sends a large tree limb through your front window or through your roof — you need professional assistance right away. Fortunately, the emergency tree removal specialists at M&A All Seasons Tree Service are ready to respond to your tree emergency 24 hours a day, 7 days per week, 365 days per year!
All seasons bring with them severe weather that damages the trees surrounding your home or business. After any storm, always inspect the area around your property for cracked or hanging limbs, leaning trees or other potential hazards. From high winds from unexpected summer storms to freezing rain common during Michigan winters — your trees take a beating between December and April each year.
Over time, storms can weaken a tree's root system — making them hazardous to you and your property. With one call to our team of professionals — day or night —  we will safely remove damaged trees or branches before they cause additional problems. Our experienced team will arrive at your property as soon as possible to quickly assess the problem and find a quick solution.
Using our industrial crane, our crews can handle any emergency regardless of the proximity to a home or business. Able to access trees otherwise unreachable by climbing or our bucket truck, our crane helps us to safely remove trees or branches located directly over or between structures. Safety for our team, our clients and any property we work around remains our number one priority. Our experienced and dedicated staff receives ongoing training in equipment operation, assessing tree damage and potential risks in working with storm damaged trees. Whatever your tree emergency, M&A All Seasons Tree Service delivers when you need us most — 24 hours a day, 7 days per week, 365 days per year!
For more information about the Grand Haven emergency tree removal experts at M&A All Seasons Tree Service, please contact us here or call us directly at 616.604.0501.