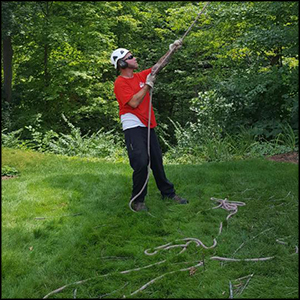 The dedicated team of M&A All Seasons Tree Service proudly offers a range of high quality services for both residential and commercial customers.
Our tree service professionals provide unparalleled expertise when dealing with troublesome trees. Recognizing the quality of our work affects you and your property for years to come. We hold ourselves to the highest standards of professionalism, safety and excellence. When working with M&A, you rest easy knowing we strive to ensure your complete satisfaction.   
Along with our dedication to customer service, our reputation for fair prices is unequaled with free on-site quotes. M&A's competitive prices will help you to decide which of our excellent services best fit your needs. Always upfront with our costs, we make sure that you understand every aspect of each service's process before work begins. When working with M&A All Seasons Tree Service, you never have to worry about unexpected expenses.
Our tree experts perform a wide range of tree services, including:
Grand Haven Tree Removal Service
When you need a tree or large limb removed from your property, the experienced team at M&A All Seasons Tree Service offers professional, reliable and affordable tree removal service for any size project.

Our tree removal experts can help you with quick removal of troublesome trees due to disease, storm damage or potential falling risk to your home and business. After more than 30 years in the industry, our dedicated team remains focused on helping clients fully understand the process and what to expect — before we start any job. Learn more about tree removal here.
Grand Haven Tree Trimming
At M&A All Seasons Tree Service, our dedicated team understands the importance of regular tree trimming and pruning to keep your property safe and looking great.

Proper preventive care now saves headaches and costly expenditures in the future. Untrimmed dead branches become home for insects and disease affecting the growth and health of your trees. Regular tree pruning removes these threats to the tree and promotes healthy growth. Tree trimming also encourages guided growth to maintain proper weight distribution of branches — reducing the risk of severe damage later as the tree ages. This easy and proactive approach ensures that your trees remain healthy and strong for many years. Learn more about tree trimming here.
Grand Haven Stump Grinding
Nothing breaks up the pristine view of your property more than a rotting tree stump. The stump grinding experts at M&A All Season Tree Service know firsthand that these hazardous eyesores require years of erosion to shrink even slightly — making stump grinding your best option.

M&A All Season Tree Service proudly offers our residential and commercial customers professional and affordable tree stump removal services to rid your property of that  unwanted stump. Stumps left over from fallen or removed trees look unappealing, take up valuable space and make yard maintenance difficult. Removing these stumps frees up room for that larger garden, fountain or swing you've always wanted. Our stump grinding machinery easily grinds up even the most difficult stumps. Learn more about stump grinding here.
Grand Haven Lot Clearing
Clearing land to build a road, home or commercial structure remains one of the most labor-intensive jobs of any construction project. Removing large trees and thick underbrush requires effort, skill and specialized equipment. Let M&A All Seasons Tree Service help you complete your next lot clearing project correctly, safely and on time.

From large industrial clearings to small house additions or road access, our experienced team of licensed professionals specialize in transforming your undeveloped property into an area ready to build on. With decades of experience in tree removal and stump grinding, we strive to turn a difficult, potentially dangerous and time-consuming project into a worry-free experience.
Grand Haven 24/7 Emergency Calls  
When a storm sends a large tree limb through your front window or through your roof — you need professional assistance right away. Fortunately, the emergency tree removal specialists at M&A All Seasons Tree Service are ready to respond to your tree emergency 24 hours a day, 7 days per week, 365 days per year!

All seasons brings with them severe weather that damages the trees surrounding your home or business. After any storm, always inspect the area around your property for cracked or hanging limbs, leaning trees or other potential hazards. Learn more about 24/7 emergency calls here.
For more information about Tree Services from the experts at M&A All Seasons Tree Service, please contact us here or call us directly at 616.604.0501.