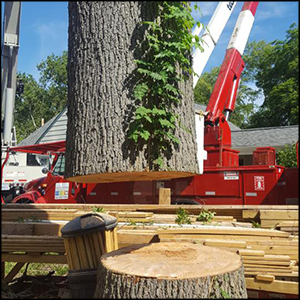 When you need a tree or large limb removed from your property, the experienced team at M&A All Seasons Tree Service offers professional, reliable and affordable tree removal service for any size project.
Our tree removal experts can help you with quick removal of troublesome trees due to disease, storm damage or potential falling risk to your home and business. After more than 30 years in the industry, our dedicated team remains focused on helping clients  fully understand the process and what to expect — before we start any job.
Any tree removal job requires planning, patience and skill to avoid injuries and property damage. Ranked in the top 10 of America's most dangerous jobs, tree removal demands respect and caution to avoid the dangerous hazards which accompany even the most simple jobs. Fortunately, the professionals at M&A All Seasons Tree Service know how to remove your trees the right way.
We always dispatch one of our experts to your location to properly assess things before moving forward on any project. Safety remains our primary concern, and we work tirelessly to take every precaution to ensure the safely of our team, our customers and their property. This attention to detail includes the protection of your property and any neighboring property throughout the tree removal and cleanup process.
In addition, we also offer stump grinding services and disposal of any trees and debris that we remove if needed.
When it comes to tree removal, the right equipment makes all the difference. In tight residential areas inaccessible to climbing or a bucket lift, we use a compact, yet powerful industrial crane to move large limbs and to avoid property damage.
In addition, our crane service minimizes risk to surrounding structures during the clearing process. When clearing lots, regardless of the size and scope of the project, safety remains our number one concern, and we take every measure to safeguard both ourselves, our clients and all equipment and property in the vicinity.
For more information about Grand Haven tree removal from M&A All Season Tree Service, please contact us here or call us directly at 616.604.0501.