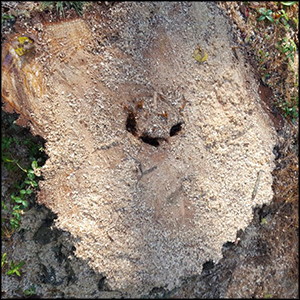 Nothing breaks up the pristine view of your property more than a rotting tree stump. The stump grinding experts at M&A All Season Tree Service know firsthand that these hazardous eyesores require years of erosion to shrink even slightly — making stump grinding your best option.
M&A All Season Tree Service proudly offers our residential and commercial customers professional and affordable tree stump removal services to rid your property of that  unwanted stump. Stumps left over from fallen or removed trees look unappealing, take up valuable space and make yard maintenance difficult. Removing these stumps frees up room for that larger garden, fountain or swing you've always wanted. Our stump grinding machinery easily grinds up even the most difficult stumps.
Besides helping to make your home or business more appealing, many benefits abound when you decide to remove your stump. The remains of these dead trees cause other problems over time. Damage to lawn mowers from accidentally running over the stump remains a common homeowner complaint. As stumps rot over time, they attract insects such as wood burrowers, beetles and ants that can infest your yard and possibly even your home.
Stumps also represent a tripping hazard and often become a liability for your home or business. Additionally, these stumps provide the opportunity for new tree growth in the form of unsightly sprouts popping up around the stump. To avoid many of these problems and improve your property, let the stump removal team at M&A All Seasons Tree Service remove your tree stump.
For more information about the Grand Haven stump grinding experts at M&A All Seasons Tree Service, please contact us here or call us directly at 616.604.0501.