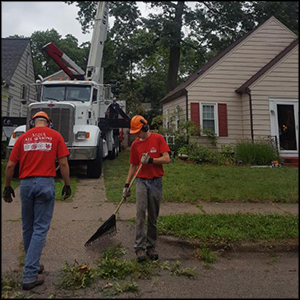 Still want to learn more about our tree removal company? While we strive to deliver exceptional customer service on every job — we really don't like to brag about ourselves. So, we'll let some of our clients do it for us! Read any of the customer testimonials below to learn more.
On my property, Mike took down a very large oak tree, 5 foot in diameter, over 16 feet in circumference, and about 90 feet tall, part of which was over high tension wires. First of all, Mike operated very safely, was very proficient, timely, professional and cleaned everything up so that when completed you couldn't tell that the tree was removed from the yard and driveway. As a 40-year veteran of the construction industry that thoroughly understands safety and the use of tools and equipment — I truly respect a hard-working individual who understands his business and his responsibility to a homeowner. I would highly recommend Mike for any tree work that a person might need.
– Tom
Great work by Mike and his team.
– Jeff
I just wanted to thank Mike and his team again for doing a fantastic job with taking down and removal of our pine tree!! They did a fantastic job in a very safe manner and also did a great job of cleaning up all the little branches. You wouldn't have even known the tree had been removed except for the shavings from the chain saw at the bottom of the little stump — which there is no way to remove as I know from my days of cutting for a hobby. Make sure to tell him a big thank you as he carries himself and represents the company with so much professionalism.
– Dave
Professional , excellent work!
– Don
M&A took down two very large trees close to our house…and we were very impressed with the work. The job was priced very competitively. Would highly recommend!! 5 stars and 2 thumbs way up!!
– Doug
It is my first time burning wood. Mike gave me some pointers with my wood burner, when he was making some of his drops of 14 cords of wood. I will definitely be getting more wood from M&A All Seasons and possibly have some trees cut down in the future.
– James
M&A were cutting some trees at a neighbor's house, since they were nearby, I contacted them to do some big trimming and cut down a dead pine that was getting dangerous. They gave a great price and jumped right on the job. Performed the work with safety in mind and very skillful at their job. I would hire them for any of my tree services.
– Bert
Mike and his team were very efficient, on time, and wonderful to work with. I would highly recommend them! They took down a large tree that had fallen on a couple of other trees on our property. They had the right equipment to handle the job easily. Great work guys!!!
– Pam
Mike and his crew did a great job with tree removal after a storm. Mike was fast to respond to my inquiry, and scheduled the job for a day later. We were not there for the actual downed tree removal but arrived later in the day the job was scheduled.
Tree was gone, no deep tire tracks in yard and the grass was cleaned up so good there was little evidence that a 40 foot tree had come down and then been removed. Highly recommend.
– Michael
We had very large oak trees (one close to our house) removed and stumps ground down. Mike and his crew did an amazing and very efficient job. We will definitely have them back to do more tree removal. They are honest and a great team. We would highly recommend them.
– Tony