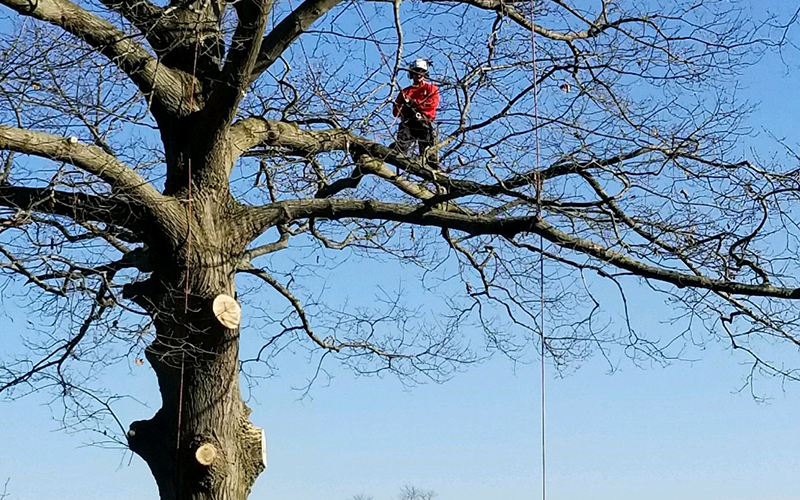 03 May

Why You Should Trim Your Trees

As springtime approaches, homeowners began thinking about restoring their yards for use throughout the Summer and Fall. While picking up sticks and removing dead branches remains a part of that process — tree trimming rarely ranks high on most people's to do list. However, trimming your trees ensures their health, the safety of your home and beautifies your property.

To easily identify dead parts of a tree, look for portions that lack leaves, brittle bark that falls off, hanging limbs and a trunk that feels spongy. Tree branches need to be trimmed in order to remain healthy. Tree trimming helps trees grow new leaves and branches, leaving the overall tree healthier.

Keeping your trees healthy helps to protect your home throughout the year. Dead matter, such as brittle branches and brittle bark, makes trees dry and frail. This makes it easier for branches to fall off during a storm, ending in damage to you, your property, your family — or even your neighbor's property. Dead branches on the roof creates room for gutters to get damaged and algae to form.

Dead matter also allows for disease and pests to develop, causing further damage. Wood boring insects and other pests snack on the wood of the trees — weakening tree roots and potential for a downed tree. Broken tree branches littering the ground increase the potential for pedestrian injury, or the additional attraction of pests. Trimming your trees removes these safety hazards and leaves your trees healthy and safe.

Keeping your trees trimmed also allows for a beautiful and well-kept yard. Trimming your trees in a uniform style makes for an aesthetically pleasing look and adds to fruit and flower production.

The Arbor Day Foundation recommends removing dead matter from your trees during or right after dormancy for that particular tree. Which in Michigan usually means during the winter months.

Tree trimming often causes injuries and even death when performed improperly. Without proper safety gear and knowledge of how to properly remove trees and tree branches, the process can end very badly. Many people also forget to factor in power lines, decaying wood and even gravity. Trimming trees near power lines adds the risk of electrocution and standing on or holding on to a decaying branch may trigger a bad fall. When trimming a tree, cut pieces end up wherever gravity chooses — not always where you hoped they would land — leaving room for injury and property damage. In order to avoid these hazards, consider hiring a professional tree trimmer.

For more information on tree trimming from the experts at M&A All Season Tree Service, please contact us here or call us directly at 616.604.0501.