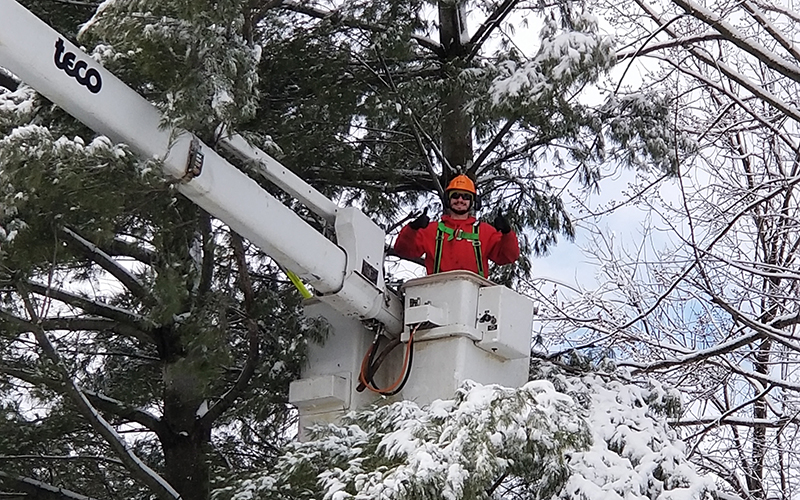 12 Oct

Preparing Your Trees For Winter

As summer finally bids us farewell and temperatures drop, the trees surrounding your home or business shed their leaves — and ultimately become potential safety hazards.

Record rainfall the past two months helped your trees grow rapidly. Tree branches that now extend closer to your roof and siding potentially leads to more problems throughout the winter. Trees need your attention. Colder temperatures, heavy snow and ice and biting wind combine to weaken and break even large tree branches — causing extensive damage to people and property.

In order to avoid injuries and property damage from your trees, try these tricks:


1. Watering: Trees need water year round. Trees struggle to collect enough water during the winter, so watering them regularly throughout the Fall season helps them tree-mendously! If your soil feels sandy, soak the tree more often. If mostly clay, water more easily puddles. Avoid puddling because the roots still needs oxygen for growth. Even evergreen trees need water during winter to avoid drying out.

2. Mulch: Applying mulch around the base of your trees reduces the problems caused by winter drought. Lay down a thick layer of organic mulch right at the base of the tree in late fall before the first snowfall. This helps slow moisture loss and runoff while acting as a temperature buffer for your tree's roots.

3. Pruning: Branches weakened by heavy snow increases the chance for injuries and property damage. We recommend pruning your deciduous trees in late Fall while dormant. Prune birch and maple trees when their leaves are fully grown. Spruce and fir trees prefer pruning in late spring. As a rule of thumb, remove injured, diseased, weak, thin or rubbing branches.

As you look toward Winter, we recommend treating your trees with the attention they need. The silent snow poses a potential hazard.

For more information about preparing your trees for winter, from the experts at M&A All Seasons Tree Service, please contact us here or call us directly at 616.604.0501.