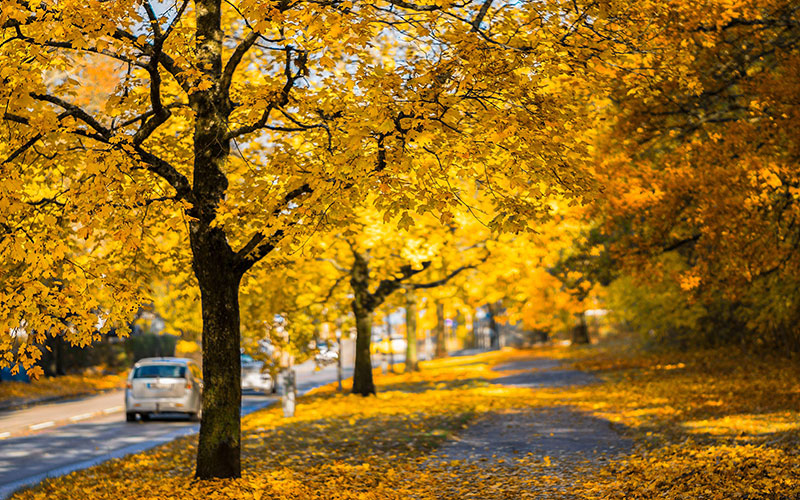 21 May

How To Identify Your Trees

Known for its abundance of greenery, Michigan boasts a unique variety of native and non-native trees spread across the state. Properly identifying each species provides useful information on their benefits to the ecosystem, possible harmful effects to the environment and their growth habits over time.

The main parts of a tree to observe at are its flowers, bark, fruit and branching. These separate sections aid you in identifying the type of tree growing on your property

Evergreen trees have conifer leaves all year round, appearing as needles or pins. These needles area dark green color. Depending on which species of evergreen you're observing, there may also be brown pine cones hanging from the branches. There are numerous variations of pine trees –– White pine, Jack pine, Scotch pine, Red pine or Northern White cedar. Each of these species have subtle changes in shape of leaves and grooves within the bark.

Aspen trees have triangular shaped leaves, appearing light green or yellow in color. These trees have white bark and a smooth texture among its base and branches. Aspens come in two variations –– Trembling aspen and Bigtooth aspen –– portraying differences in leaf length and margin size.

Maple trees are among the most distinct trees in Michigan, providing a sweet, syrupy liquid that many families collect during the fall and winter months. Maple trees have very pronounced star-like shaped leaves, appearing red, green and yellow in color. This leaf formation is known as 'palmate,' as it also looks much like a spreading palm.

Another well-known Michigan tree is the Oak, which can grow to over 100 feet tall. Oak trees remain abundant in Michigan, as around five species of oak grow within our forests. Easily identified by their toothed leaf margins and lobes, Oaks vibrantly change color throughout the fall season.

The last leaf uniquely found in Michigan is the compound leaf, found on American Mountain Ash trees and Honey Locust trees. The wild versions of these trees have sharp spines running throughout their branches. These leaves look like feathers, appearing as small, round petals attached to a larger section of multiples of these. Leaves are yellow or golden in color, flowering with white flowers in the spring and red berries during the fall.

Properly identifying the various types of trees found in Michigan remains vital to understanding the landscape and ecosystem of our state. Your property could be filled with multiple tree species, all uniquely beautiful and exotic in their special way.

For more information on how to identify your trees from the experts at M&A All Seasons Tree Service, please contact us here or call us directly at 616.604.0501.